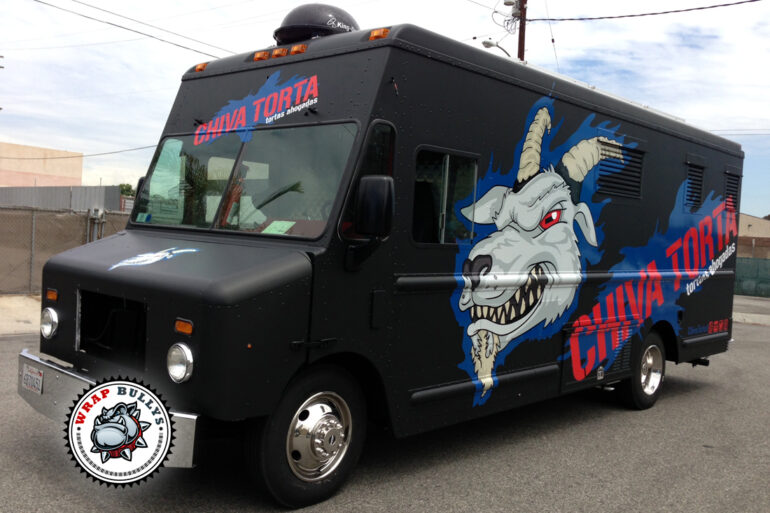 So now you know what you want the exterior of your food truck to look like. You've designed the menu boards and after weeks of sleepless nights, you've locked in a logo. That's great, but now you have to decide how to apply all of that sweet, sweet decor to the outside of your truck. There are a couple of different options for the exterior decoration. These two choices are vinyl and paint and here's a look at the pros and cons of both, courtesy of One Fat Frog Restaurant Equipment.
VINYL: wrapping your food truck in vinyl is a standard practice in the industry. Vinyl allows for some really clean-looking art with eye-catching designs – somethings that will definitely draw folks to your truck. Marketing studies have shown that vehicle wraps are read and remembered better than nearly all kinds of advertising, besides TV commercials. That's most impressive. Depending on weather exposure and how well you maintain the exterior of your food truck, your vinyl wrap can look like new for years.
The only real downside to vinyl wrapping your food truck is that the life span of most adhesives is less than five years. Also, if a wrap has been on a food truck for longer than three years, it may be very difficult to remove it cleanly. Vinyl wraps are also more expensive than paint. A good wrap job will cost you anywhere between $3,500 and $4,200.
If you're operating in a downtown area with buildings three stories tall or over, you should consider wrapping the top of your truck as well. That way folks can look down and see a food truck, not just a blank white truck parking nearby. Brand that roof!
Look for a graphics company that specializes in food trucks. Search your area for these professionals online. You can also speak with food truck owners and builders for referrals.
PAINT: decorating your food truck with paint is a less expensive option, but unless you get an exceptional painter you're not going to get as much clean detail as you would with a vinyl wrap. Hiring a painter to do your entire food truck will set you back around $3,000 to $5,000.
Unless you have experience truck painting, don't attempt painting your food truck yourself. You risk spending a lot of time and money and you may wind up doing a poor job and having to get it redone by a professional.
You can choose to only have your food truck partially wrapped, in which case you can paint in the naked spots.